Banker Dave, First National Bank of Dave, Gay, Financial Domination, Cash Slaves, Cash Master, Cash Rape, Wallet Rape, Tributing, Cash Slavery, Financial Slavery, Blackmail, Muscle Worship, Cock Worship, Foot Worship, Pain, Chastity, Orgasm Control, Humiliation, Forced Intox, Forced Smoking, Forced Poppering, Verbal Abuse, Cock Ball Torture, CBT, Small Cock Abuse, Submissive Training, Roleplay, Pay My Bills, Hung, Jock, Bank, gay cash slaves, gay cash masters, gay money slaves, gay money masters, gay cash slaves, gay cash masters, gay money slaves, gay financial domination, male financial domination, gay financial domination, bill adoption, expense adoption, feet worship, pleasure, dehumanization, feminization, sissification, mental mind fucking, glory hole whoring, boss, employee, locker room, mind fuck

The exterior of the temple is in need of a new exterior. The
temple is currently made of regular masonry bricks, but
that isn't good enough for Banker Dave. Therefore, it is
your objective to cover the entire building facade with
cash and credit cards.

Click any of the buttons to the left to submit a building
worship tribute (left column). Prove your worth further by
submitting a building tribute along with a purchase from
Banker Dave's Amazon Wish List (right column).

If choosing to make both monetary and gift tributes, you'll
be linked to Banker Dave's Amazon Wish List.

Upon receiving your tribute(s), they will be placed on the
temple facade within 24 hours for your viewing pleasure.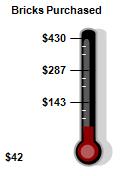 The Banker Dave Worship Temple is
NOW OPEN
.
Click on the door to enter the Temple floor! Within
the temple, you will find Banker Dave's alter, where
you will be able to worship at your leisure. Also, you
can find the confessional, where you can divulge you
most deepest and darkest secrets. In addition to
these most excellent and superior areas of the
temple, there is an area for discipline as well as an
area for sacrifice.